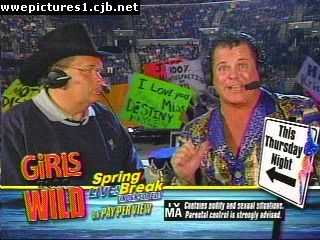 WWE promoting more adult behavior. Courtesy of wwepictures1.cjb.net
Have women become just a tool for the WWEs mens fantasies?
I rarely topple this type of argument anymore, but lately the WWE have been not only upsetting me, but bringing in one of the most degrading forms of entertainment to the air.
I realize that the WWEs demographics is focused more upon males aged 15-35, or something like that, but does Vince realize that some of the degrading ideas that have been put across the television screen could push away his female viewers?
For example, the "wet t-shirt" contest on RAW Monday night. Not only does this feed Lawlers version of fun, i.e. soaking down ladies to see a glimpse of cleavage, but ladies that did do this type of thing, why?
To get on television? That is not only a funky reason, but what would your families say down the road? How do you explain to your children "Mommy was on tv, but you cant see it." When the children ask why, you realize that probably the only television appearance you would ever make in your life, you showed what God gave you and everything that the doctor did.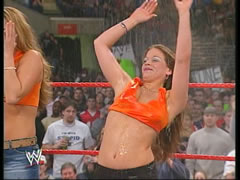 Only thing missing is the pole and a g-string. Courtesy of wwepictures1.cjb.net
I realize that as a woman that yes we want to show off everything that we have, but there are differences between subtlety and flat out lewdness. The Girls Gone Wild series, or GGW for short, has been targeted by girls who said that they were talked into showing off their breasts, and later regretted it.
Will these ladies regret showing off their chests to a worldwide audience, and not just a video cassette collector?
However the T and A factor has spread to just about every federation in the nation. The idea that guys can ogle women in short shirts and short skirts or hot pants has spread like wildfire.
NWA:TNA has girls that dance in cages for the TNA portion of NWA:TNA. I personally know several of the ladies that do dance in these cages, but why? These arent the only ladies that are in TNA. Ladies such as the lovely Desiree and Trinity, to name two, that do not work on TNA value. They work inside the ring.
As I have seen through many different locker rooms and many different shows, it doesnt hurt to have the TNA value, but most would rather have a lady who looks nice and that can WORK. I mean work. Work the crowd and work the match. If you look nice, can wrestle, work a mic and can help out managing, youre in.
But some writers would rather bring in the T and A for shock value. Always shock value. But when did a womans body become shock value?
Women such as Rena Mero, Joanie Laurer and now Torrie Wilson made the most of their body by posing for Playboy, but what damage did it do their character, their relationships, their career? I can only speculate.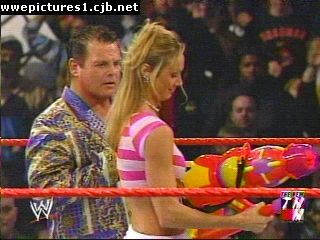 Don't give Jerry that thing...Courtesty Photo
If the WWE wants shock value, heres something for them, put on wrestling instead of Jerry Lawlers wet dream on the screen, that would shock people more than some lady getting her t-shirt wet or Stacy Keibler prancing around in the ring with wet shorts. Shock them that way. Leave the bodies to the magazines or the websites, not in the ring or on the television screen.
I do have the play my own devils advocate at times and tell both sides of the story. Most of my friends hate when I do this, but why not.
The information above is more of the writer that comes across before knowing the part of the business that I have seen.
First off, not always do the ladies actually show off everything that God gave us. From my experience, we do not always resort to using our bodies to distract guys to win matches.
Sometimes during a match, we like to help our guys out with a distraction. If not knowing what to do off the top of your head, you tend to improvise.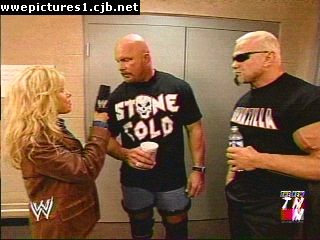 At least it wasn't Terri this time. They have turned her into a respectable interviewer.
I will admit that the more skin that a woman does show, the more heat comes from the fans more. Its just the "slut factor" as I call it. Most women in the audience who see scantly clad ladies move towards the assumption that they are out there to cause trouble or to steal their man away. That heat does not always work, especially in the dead of winter and youre freezing your ta-tas off (not a good thing). That I can remember, I have not resorted to showing off any body part to get a guys distraction, but it does help if it is easily accessible.
Write in all comments or complaints to
lekisha@wrestling-online.com
Over the next couple of weeks, I will be finishing up on the interview with NWA:TNA Superstar Jerry Lynn and getting ready for more work in the upcoming weeks.
Also, many apologies for not writing a column sooner. Here in Tennessee, we are working on the end of basketball season and tournaments have been HECTIC!!!!!! But I promise to work hard for this column and for all the readers.