What comes to mind when the name, Chris The Bambikiller is spoken? Images of getting rid of deer? Completely the opposite comes to mind with this writer.
The picture is of a talented, Austrian wrestler on his way to the top. At twenty years old, Chris has been spotted by many a talent agent, including pre-WWF WCW and an attendent of Dory Funk Jr's prestigous invitational wrestling school. After reading this interview, go check out his website at
www.1bambikiller.de
LO: Please state your real name and wrestling name. Stats. Age. Etc.
CR: My name is Chris "the Bambikiller" Raaber. I'm 6'4'', weighing 235lbs, got about over 4 years pro-wrestling experience and I'm 20 years old.
LO: How did you get into the wrestling business?
CR: Well, I first saw wrestling as a young kid and I knew from the first time that I saw it that this is what I want to do. It was 1996 when I first met Michael Kovac (European wrestler), he was a rookie at this time and I just talked to him about becoming a pro wrestler. I gave him my telephone number and he told me to call when the season is done. It was 7 or 8-month season full of wrestling. Well, when the season was done, he actually called me and we started to train.
LO: Who trained you?
CR: At the beginning it was Michael Kovac, the training was about every weekend in Vienna (Austria), I was about 14 or 15 years old on that time. When I was 18 years old (with 2 years of wrestling experience) I was invited to a special camp by Dory Funk, i did the whole trip to Florida and it was just great. After that I did the camp 5 times again, so you can see I really loved it! A big "thank you!" to Marti and Dory Funk!


LO: For those who haven't seen you wrestle, please explain your character and the storyline behind that character.

CR: Well, please don't get my working name wrong. I don't kill Bambi's in or out of the ring. It is just a name I picked because I thought it is a name you don't forget. In fact it is a name you never forget.


LO: Why did you want to get into the business?

CR: It was my dream. When I was a 5-year-old kid, I knew that this is what I have to do. I'm not made for a 8 to 5 job. I'm made for a 24 hour job and trust me, wrestling is a 24 hours job!!!


LO: Who is your inspiration/hero?

CR: I would say wrestlers like...Ric Flair -because he is the true legend of your sport. Big Van Vader - he is huge and just a major heel. Dory Funk jr. - because he is the best person I have ever met a true wrestling legend! Fit Finlay - he is pound for pound the best wrestler, WORLDWIDE! All are real wrestlers, so they should be inspiration for every wrestler.


LO: What was the best/worst moment of you career?

CR: Hmmm, the worst moment in my career was when...Hmmm let me think... once I took a very bad bump right on my neck. It was in Florida when I did a suicide dive over the top rope, but the other wrestler didn't catch me.... It was a very bad moment. lol I could name some more very bad moments, but I guess nobody would care about it. lol.

The best moments.... Hmmm one of the best moments was when I first flew in to Florida and first met Dory Funk Jr. After one week in the camp (Bob Ryder of 1wrestling.com was there to), Bob wrote about the camp and he wrote about me that I was the guy with the most potential of the camp. That was a very good moment, because I wasn't very self-confident at this time. hehe. Only a few weeks later I was reading a column by Dory Funk Jr. And he wrote that I'm the guy with the most talent in the business...I guess this was one of my best moments.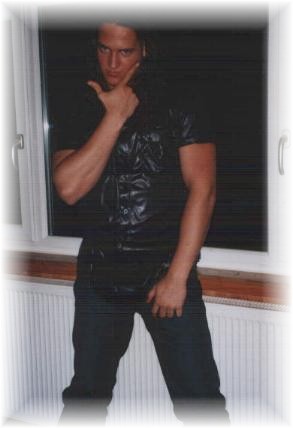 LO: What are your plans for the present/future?


CR: My big goal is to go to Japan, hopefully it will happen soon.


LO: What do you think of the sports entertainment/wrestling world today and the future?


CR: Wrestling in Europe is more wrestling as sports entertainment. I can do both, I can wrestle and I can entertain. You never know what will happen, maybe tomorrow the fans are sick about the soap opera storylines and just want to see 5 star wrestling matches.


LO: Who is the one wrestler that you admire or look up to, if any?


CR: I look up to Fit Finlay. Like I said, he is pound for pound the best wrestler.


LO: What do you think of the WWF?


CR: Everybody's goal.


LO: Why did you choose wrestling?


CR: I don't know why, I just love it.


LO: Any problems getting started in the business?


CR: Not big one. Like my old trainer Michael Kovacsaid about me at a talk show "You can't stop talent!"


LO: In and out of the ring, who was your inspiration?


CR: Tough question. I don't know.


LO: If you could wrestle anyone in the entire sports entertainment/wrestling world, who would it be? Why?


CR: Hmmm, I can name you some: Dory Funk, because he really knows how to work! Ric Flair, because he is still the dirtiest player in the game! And EZ Money, Jason Jett, I met him on the last WCW Nitro/Thunder. I never saw him before that but he is awesome. I'm sure that he will be the man in a few years!


LO: Any other comments or anything that you would like for the readers to know about you?


CR: Yeah, thanks for reading the interview. If you got any questions feel free to contact me at bambikiller@leox.net.


LO: Thanks to Chris. I would like to thank him for taking time out of his schedule to answer my questions. If you are anywhere in the area that he is working, make sure to drop by and watch him work. Tell him that Lekisha sent ya. Make sure to check out his website. 1bambikiller.de.