Lekisha Oliver [Belle of the Brawl (BB)]: Lets get the introductions going.
Hammerjack (H): [Im] Hammerjack, the Disciple of Pain.
Charming Charles (CC): [Im] Charming Charles, the manager of the new millennium.

BB: How long have you been managing him?
CC: Its been five years now.
H: Five long years.

CC: Weve seen a lot of bodies crumble and a lot of bodies fall, and a lot of bodies in the future that
are ready to fall.
H: A lot of bodies in the parking lot. (Laughs).

BB: (laughs).
CC: Thats a lot of bodies. Come here body. (Grabbed me for a hug.)

BB: How long have either one of you been in the business?
CC: Ive been in it going on ten, and hes been in it going on ten, too. We arrived at the same time.
H: Right.

BB: Yall get trained by the same people?
CC : Ill let him talk.
H: I was trained by the legend Gypsy Joe, the hardcore champion.

BB: Where did you get trained?
H: Madison, Tennessee, unfortunately.

BB: Like being from a little town south of here. What about you?
CC: I was trained by a guy named T. J. Weatherby and then I was helped by a masked guy by the name of Damien.

BB: Damien?
CC: Damien. He helped me a lot and he helped Hammerjack a lot too. He was also a student of Gypsy Joes.
H: I think I owe a lot of my training of Gypsy Joe, Tony Falk. Then after, I worked with a few matches, Boogie Woogie Boy Garry Valiant, Rick Reynolds, Ben Jordan. Ben Jordan helped a lot.
CC: There are a lot of guys that guided us through. Ashley Hudson was one that taught me a lot, not about wrestling par say, but a lot about the business. How to conduct yourself in a formal manner; a professional manner.

BB: You do very well; work that crowd very well. Especially you.
CC: Well, thank you. You gotta remember I have been an entertainer for over thirty years.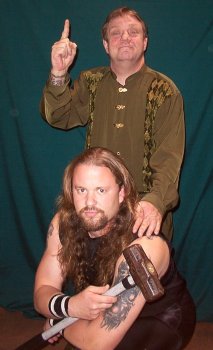 BB: Really?
CC: "Yeah, Im a musician, and Ive played in several bands and Ive
always like the entertainment business. And when I found Hammerjack, I
knew. Its very seldom, especially in the music business, to find the
good-looking kid."

BB: He is.
CC: "But a mediocre singer, but to find a kid that is a good singer, a
good looker and can work the crowd. Thats what I saw in him. A good-looking kid who knew what he was doing, but he wasnt polished yet. Its kinda like having a diamond. Now look at him, hes the most feared grappler today."
H: "Hardcore. Hardcore. Yeah, Charles found me in the slummiest bar in
Tennessee. Weve had our hair pulled going to the ring for a match."
CC: "Oh gosh, it was terrible. Spit on, knives stuck in our face."
H: "Beer thrown in our face."
CC: "Bad breath in our face."
H: "All we had to do was open our mouth, wed be half drunk by the time
we got to the ring."
CC: "Its been a long and winding road. Finally there is light at the
end of the tunnel. There is a lot of good things. Were now doing TV in Nashville on Comcast Cable Channel 75."
H: "Every Saturday night."
CC: "Its the USWO, then Mike Porter has a show running on the same station at 4 p.m., and then there will be one coming out of Alabama. You hear about that one?"

BB: Yeah, its coming out of my neck of the woods.
H: "I think were pretty much stepping up. Were on TV with the CCW in
Evansville, Indiana."
CC: "With Chris Champion."
H: "That will put us in four states right off the bat. Thats going into Kentucky and Indiana and Missouri. Five states."
CC: "And Illinois."
H: "That makes six states."

BB: Thats more exposure. The more exposure the better.
H: "Thats right."
CC: "Well, youve gotta be careful because exposure an cause cancer."
H: "And in Indiana, exposure can get you thrown in jail."
CC: (Laughs) "Yes, it can."
H: "Weve got a turtle buddy who can tell you that straight off the bat."

BB: Okay, I think Ill leave that question alone. How long have yall
been with Mike Porter?
CC: "Since October [2001]."

BB: October.
CC: "Yeah, we cam from the CCW, Columbia Championship Wrestling. Worked there for three years, and then we made the switch in October."
H: "Actually, I think that gave us a hell of a push in this town. Weve
really got our names out in Columbia. Now with the NWA having TV to
start out, that worked out a lot."
CC: "It definitely helped."
H: "It worked out a lot. There are a lot of places that we havent been, that well be going soon."
BB: Such as?
H: "My goal is Louisville, Kentucky, right now. Whether its for bigger
promotions or not. Hes from Louisville and I have family in
Louisville, so we could draw a pretty good crowd that."

BB: Thats good. Is there anything else that you wanted to talk about
or say?
CC: "Just to all the wrestlers and all the wanna-be wrestlers, were
coming after ya! Were here! And Just Gordon, youre just a thorn in my
side, little Osama Bin Laden looking guy. Doesnt he look like a camel
jockey, seriously?

BB: (laughs).
CC: "And these times of days, he can get his butt, oh Im going to say
it, his ass shot. You know what I mean? Hes a rag-head. He looks like a rag-head. We dont like rag-heads right now. I dont like my Twin Towers being knocked down. I dont like it."
H: "So to all the rag-heads out there and all the
wanna-be wrestler out there, remember, you cant turn your back on the
team of Charming Charles and Hammerjack."