Several days ago, I conducted an interview with a young and upcoming wrestler named Venom. She has wrestled all over the southern part of the United States. Ms. Venom has been trained by the likes of Sherri Martell and Mike Marcell. Please visit her website and let me introduce you to
one of the futures brightest hopes.

Lekisha Oliver (Belle of the Brawl) BB: Who trained you?

Ms. Venom: Several have trained me. Steve Armstrong taught me how to kick and punch. Dory Funk taught me how to give a solid clothesline and to lock up. Bobby Doll taught me to do the leg sissors off the top rope.

A few different folks have taught me down in Central Florida where I improved my technical wrestling skills. I have learned a lot of moves from old women's wrestling tapes that fans have sent to me. Havoc taught me the Victory Roll. Jaguar taught me the Humpty Dumpty. Mike Marcell (sp could be wrong..he died a few months back) taught me how to land on my feet from a hip toss, not to mention a lot of really cool moves I've never seen done
elsewhere (veterans are golden for us newcomers). He was a great teacher. He encouraged the best out of people. I was always afraid to flip but his belief in my ability made me feel like I never had any fear. I only trained with him that one time...but I walked away a better worker. Sherry Martel, more than anything else, has taught me the
importance of energy and professionalism in the ring. I've never worked anyone with anywhere near her charisma. Just working her is an incredible learning experience. There are many others I have learned from. I have been blessed to have trained with many workers in a few different territories. You find that wrestlers work differently in
different territories. So all his increases one's work rate and ability to work in different styles.

BB: Why did you choose wrestling?

Venom: Wrestling had always been a dream of mine. I love to wrestle. It is an accomplishment I am very proud of.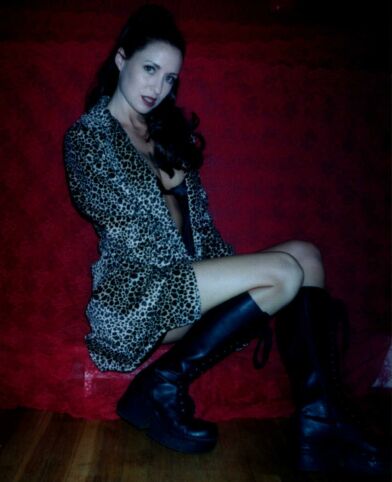 BB: Any problems getting started in the business?

Venom: None. I have been welcomed with open arms. There are few women
wrestlers in the business, so a woman can find a lot of work.

BB: What was your best/worst moment or memory?

Venom: I have several most memorable moments. I went to a UCW show
trying to get on their card. It was my first time there. The promoter,
Bud Collins, had Sherry Martel working against Bobby Doll for the main
event. Bud asked Sherry if I could walk out with her. Well, Sherry used
me as her sidekick and allowed me to work a few spots (she taught me the
rowboat that night hehe). After the show I told her that 'I had hated
her for years'. Hehe! She said that was one of the nicest compliments
she could get. The lady is a true professional. Since then Sherry has
special referreed several matches I've worked. A few months back she and
I worked a singles match against each other. She is by far the most
seasoned, charismatic and professional wrestler I've been in the ring
against. Her ring ability is a shining example to us newer wrestlers of
how much otential there is and how far we still have to go.

Another very memorable moment is when I won the MSWA Women's
Championship Belt from Dakota. Dakota has a couple years in the
business, has a true love for the business, and is another true
professional. Winning the belt from someone I respect as much as I do
her was an honor.

BB: In and out of the ring, who was your inspiration?

Venom: Well, I was initially inspired years ago....here are a few of the
talent that inspired me back then: The Undertaker, The Ultimate Warrior,
Shawn Michaels, Sonny, Sherry Martel, Macho Man Randy Savage, Big Boss
Man. The inspiring wrestlers from todays times include The Undertaker,
Dakota & Sherry Martel (both from indy work), The Hardy Boys, Edge, Dean
Malenko, Chyna and many more.

BB: If you could wrestling anyone in the entire sports
entertainment/wrestling world, who would it be? Why?

Venom: Trish Stratus. I know she's not the best worker, but she is
flexible, wants to learn and can pull off a good match. She is creative
in her ring work. I think she has a lot of potential and is open-minded.
From my experience, this makes for a great opponent and good matches.

BB: What are your plans for the present/future?

Venom: To keep wrestling. To improve on my craft. To get better.

BB: Who do you think caused the most commotion in the business? Why?

Venom: Hulk Hogan. Ego.

BB: If you had one wish, what would it be and why?

Venom: Wrestling Related: I'd wish for a strong women's division in the
WWF with fun, creative, skilled and interesting matches that grabbed the
audience's attention and brought Women's Wrestling to an equal plane as
the Men's Wrestling.

BB: Do you have any regrets or hopes about your career?

Venom: I hope to stay on the path I am on now. I love wrestling. I've
been blessed to have worked a lot and against an array of competant
workers. I hope to continue to learn, work and increase my work rate.

BB: Would you like the enter the big three one day? And if so, which one
would you like to work with most? And Why?

Venom: I'd be happy if the WWF signed me. It is, of course, an
incredible federation. Anyone would be honored to be noticed by them.
But if I never get there, I am still very proud of the work I have done
and would have no regrets whatsoever. The indies have been good to me.

Take a look over at Venoms website. She has several pictures from her
career, as well as her list of matches thus far. Her address is:
http://geocities.com/mzvenom/

I would like to thank Ms. Venom in doing this interview and wish her all
the best.